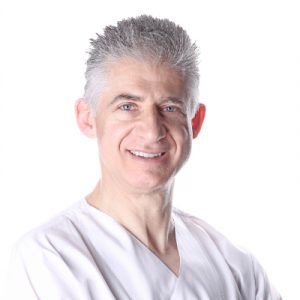 Ομιλητής: Κώστας Νικολόπουλος
Ημερομηνία: 17.01.2020
Ώρα: 16:15-17:15
Γλώσσα: Ελληνικά
Διάρκεια: 60'
Είδος: Masterclass
Μοριοδότηση από ΕΟΟ: 1,5 Μόρια
Αίθουσα: Ulysses (Business Centre, 1ος όροφος)
Τιμή: 60€
Βελτιστοποίηση των ζυγωματικών εμφυτευμάτων με το πρωτόκολλο ZAGA (Zygoma Anatomy Approach)
Zygomatic implants are used for prosthetic rehabilitation of the severely atrophic maxilla. The original surgical technique at modum Brånemark prescribed an intra-sinus pathway of the implant from a palatal site entrance, and the preparation of an antrostomy to allow visualization during insertion of the implant. However, different morphologies of the edentulous maxilla can be identified. The more concave the maxillary anterior wall is, the more palatal will be the position of the implant head. If the maxilla is very atrophic, the palatal entrance will occur through a thin cortical bone. These situations will frequently end with bulky prosthetic reconstructions, impaired hygiene and eventual sinus complications.
To overcome these drawbacks, and to facilitate the zygomatic procedure, different surgical approaches, including the extra-sinus technique, have been described. Carlos Aparicio has introduced a novel protocol, named Zygoma Anatomy-Guided Approach (ZAGA). ZAGA method is aimed at promoting a patient-specific therapy. In most cases, this method avoids the opening of a window or slot into the lateral wall of the maxillary sinus previous to implant placement. Instead, a muco-periosteal flap is placed up to and including the posterior maxillary wall and the superior zygomatic rim in order to allow visual control of the complete surgical field. The surgical management of the implant site is guided by the anatomy of the patient. Conservation of the remaining alveolar bone is critical.
A classification describing the variations of the zygomatic buttress anatomy helps the surgeon to choose the coronal and apical entrance points for the zygomatic drill. Rationale is proposed to choose the osteotomy position and characteristics, usually perforating the anterior Zygoma cortex twice. As a consequence, the path of the implant may vary from a total intra-sinus to a total extra-sinus one. Using specific success criteria for zygomatic implants, the ZAGA method has shown significantly enhanced results and a reduced number of long term complications compared to previous techniques.